Relax in our Eastern Day Spa
Sabai Leela's signature treatment, the Thai Combination Massage blends deep tissue massage, gentle stretches and acupressure points to create a perfect balance of refreshment and relaxation.
(NUAD NAMMUN)
This full body treatment combines the soothing power of massage with the healing qualities of aromatic essential oils. Our customised blend of essential oils induce deep feelings of relaxation.
(NUAD SABAI)
Often compared to a Swedish massage, Sabai Leela's Relaxing Massage uses gentle massage strokes to relax muscles and improve circulation, leaving you feeling relaxed and invigorated.
(NUAD NAK)
For a stronger, more intense treatment, therapists use their hands, elbows and feet to apply deep pressure to acupressure points, targeting specific areas of tension in the back, shoulder and legs.
(NUAD SA MOON PRAI)
This deluxe scrub begins with a relaxing visit to the steam room, followed by a gentle traditional Thai herbal scrub followed by a relaxing massage focused on soothing mind and body.
(NUAD THAI YOGA)
Traditional Thai Yoga massage is an ancient healing art which combines Ayurveda and Yoga influences from India and Southeast Asian cultural healing traditions.
(NUAD PRAKOP)
Once the secret tool of ancient healers, this traditional Thai treatment focuses on relieving muscular aches and pains using a steamed herbal heat compress.
(NUAD LAI)
This treatment concentrates on upper body tension (head, neck and shoulders) to release stress and ease tired and aching muscles.
(FOOT MASSAGE)
This ancient technique stimulates the nervous system through the application of gentle pressure to acupressure points in the hands and feet corresponding to glands, organs and muscles.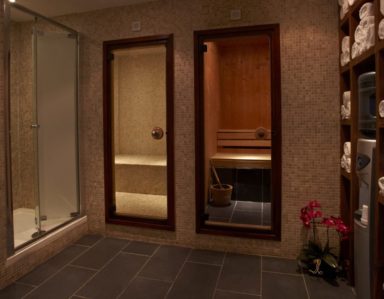 Immerse in the heat of Sauna
Letting yourself be immersed in the heat of a sauna has many health benefits. Your heart rate goes up and blood vessels widen, which increases your blood circulation. This in turn, improves your cardiovascular health, reduces problems with asthma and eases muscle and joint pain. Most importantly, visiting a day spa will help you relax and reduce your stress level.
Reconnect with yourself
Our Finnish sauna is tailored for you to feel relaxed and calm. Improve your well-being with a rich, experience for your whole body – a massage by our experts followed by long sauna session. Sabai Leela spa will help you reconnect with yourself and feel grounded once again.